Foils and packaging
with certified regranulate
What is the post-consumer regranulate (PCR)
PCR is a shortcut for products made of recycled post-consumer wastes. PCR products are made of processed plastics, used in households, commercial institutions or industrial facilities. PCR is the biggest source of waste in the world. That is why we are constantly looking for ways to reduce the size of this source through reusage of wastes. Many of them, including PET, polyethylene or polypropylene can be recycled with ease, which limits the use of the primary materials.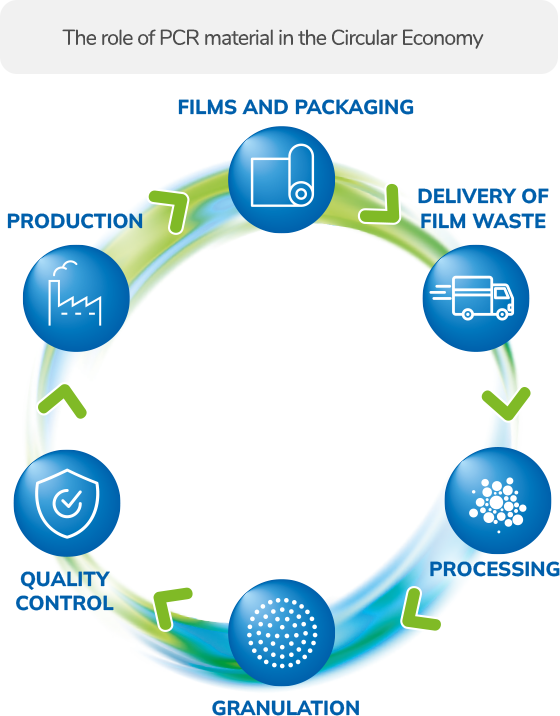 What are the advantages of PCR materials over the primary ones?
Reduced usage of mine resources
Reduction of the CO2 emissions to 85%
Reduced water usage
Reduced energy usage
Reduced production of wastes
Increased consumers' awareness of brands supporting protection of environment
One step closer towards a closed-cycle economy


The Spanish legislature has approved a new tax on non-reusable plastic packaging, which will take effect as of 1 January 2023. The new tax has a very broad scope, tax rate of €0.45 per kg of non-recycled plastic packaging and is envisaged to collect approximately €724m of revenue annually for the Government
Under Italy's Budget Law for fiscal year (FY) 2022, the plastic tax will enter into force in 2023. In line with the European Union (EU) strategy for plastic, the plastic tax aims to reduce the production and consumption of single-use plastic products (so-called MACSI) as well as to promote circular economy principles.


You will need to pay Plastic Packaging Tax if you have manufactured or imported plastic packaging components which contain less than 30% recycled plastic.
All pro-ecological activities will be taken by EU Member on the basis of Directive (EU) 2019/904 of the European Parliament and of the Council of 5 June 2019 on the reduction of the impact of certain plastic products on the environment.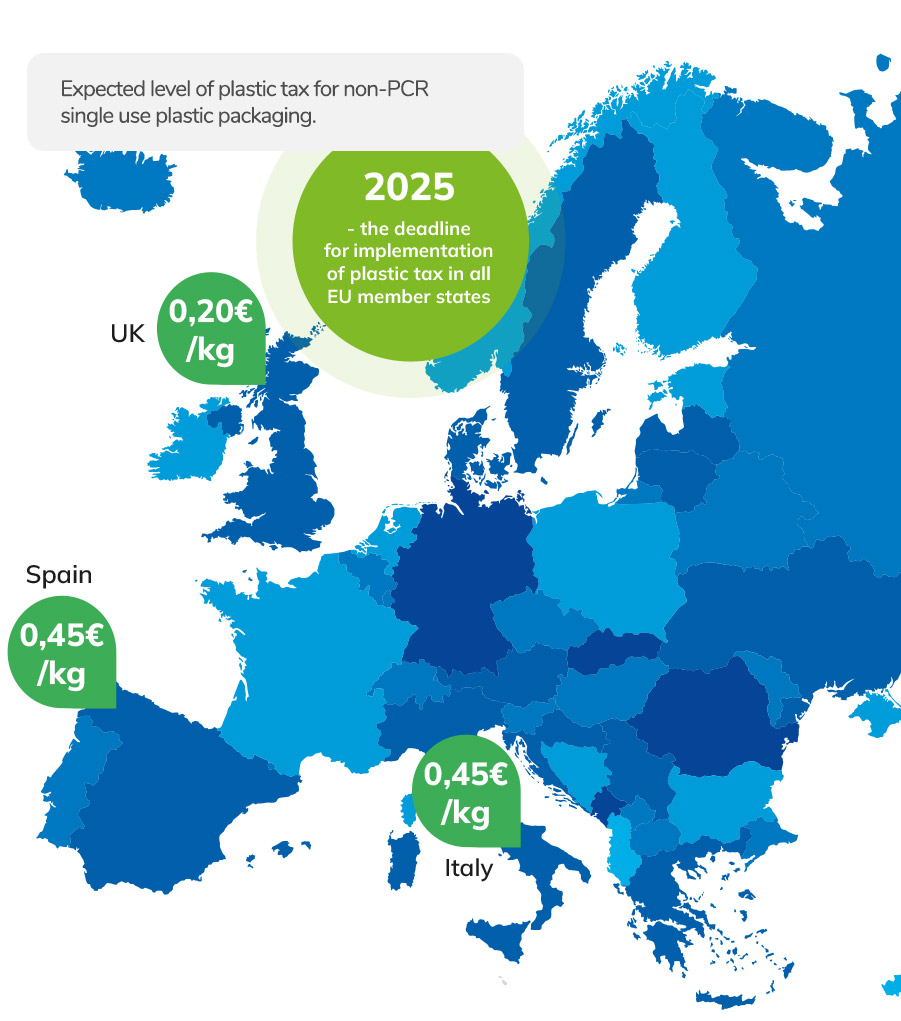 – A leader in the field of certified PCR films and packaging

EuCertPlast is an European certification system dedicated to producers of recycled plastics (regranulates).
The system assures standardization of procurement and production processes. EuCertPlast abovementioned certification program focuses on the traceability of plastic materials (throughout the entire recycling process and supply chain) as well as on the quality of the recycled content in the final product, making a strict distinction between PCR and non-PCR plastic waste.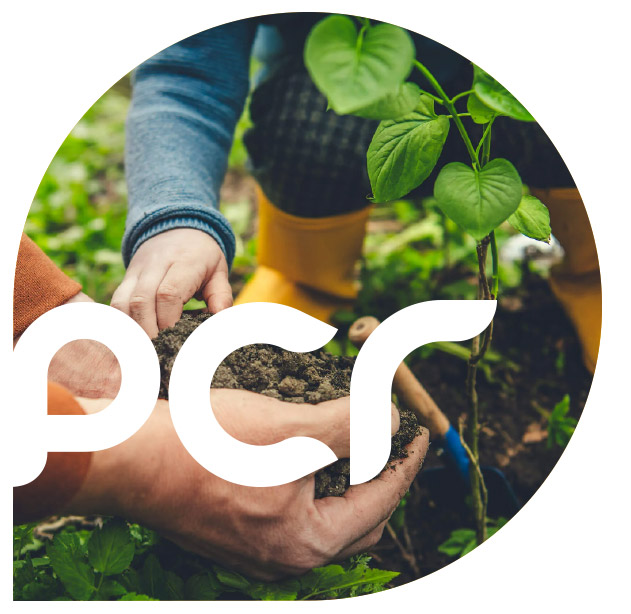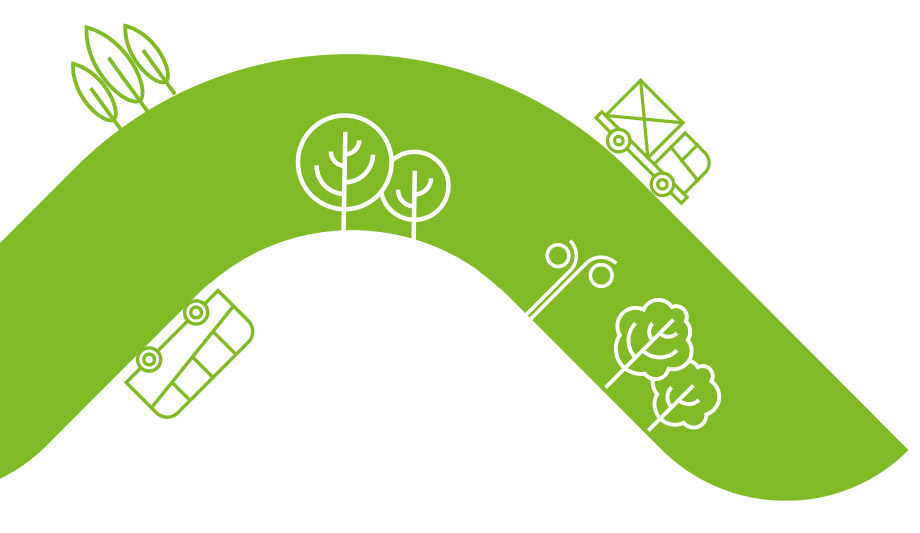 RecyClass is a complex and multi-brunch initiative, which increases the possibility of recycling of packaging products, allowing traceability of plastic wastes and recycled plastics in packaging sector.
RecyClass certification system enables to truck and calculate the specific content of PCR and non-PCR wastes in packaging products.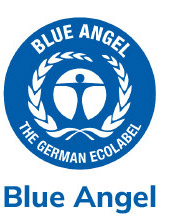 Blue Angel is an ecological trade mark informing consumer about high quality ecological products which promote ecologically aware consumption.
The minimum quantity of post-consumer wastes in final packaging products with Blue Angel mark should exceed 80% of material content. All the suppliers of recycled materials and semi-products should also undergo certification programme (like EuCertPlast) to ensure proper recycle product mass balance.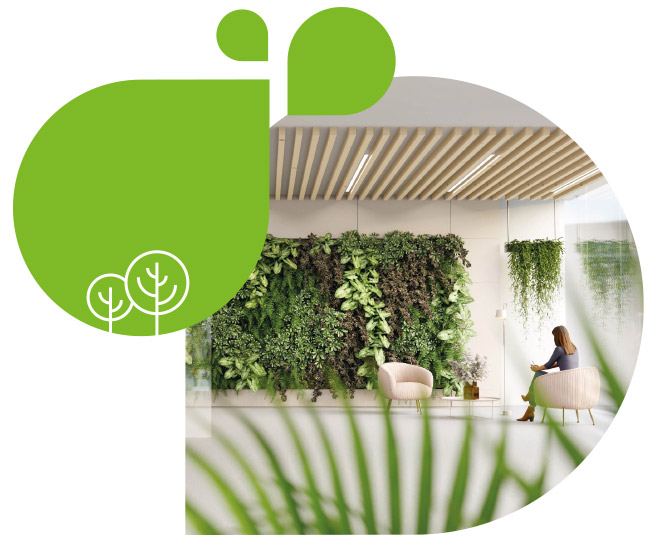 Our approach towards ecology:
Sustainable growth lies at the core of our organizational culture. Reduced usage of virgin plastic and increased production of recycled materials for packaging are out top priorities of environmental protection.
98% of the products manufactured by our company are based on homogeneous recipes (based on polyethylene or polypropylene), which are fully recyclable.
The level of production waste does not exceed 3% and is almost entirely recycled and used in the further production process.
Most of the plastics we use are stored in silos and big-bags, which significantly reduces the use of polyethylene bags for raw materials packaging.
Where the use of bagged raw materials is necessary, we conduct selective collection of raw material bags which are recyclable.
Most of our heating devices have been equipped with thermal insulation coats, which significantly reduces heat loss and energy consumption in the production process.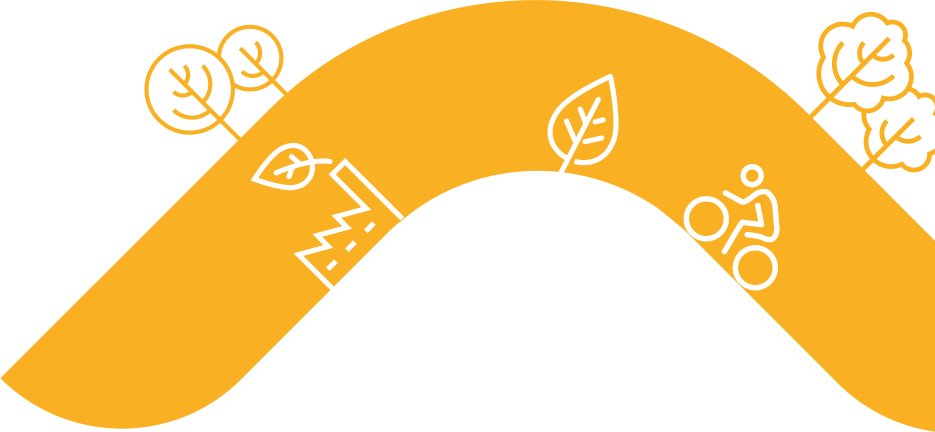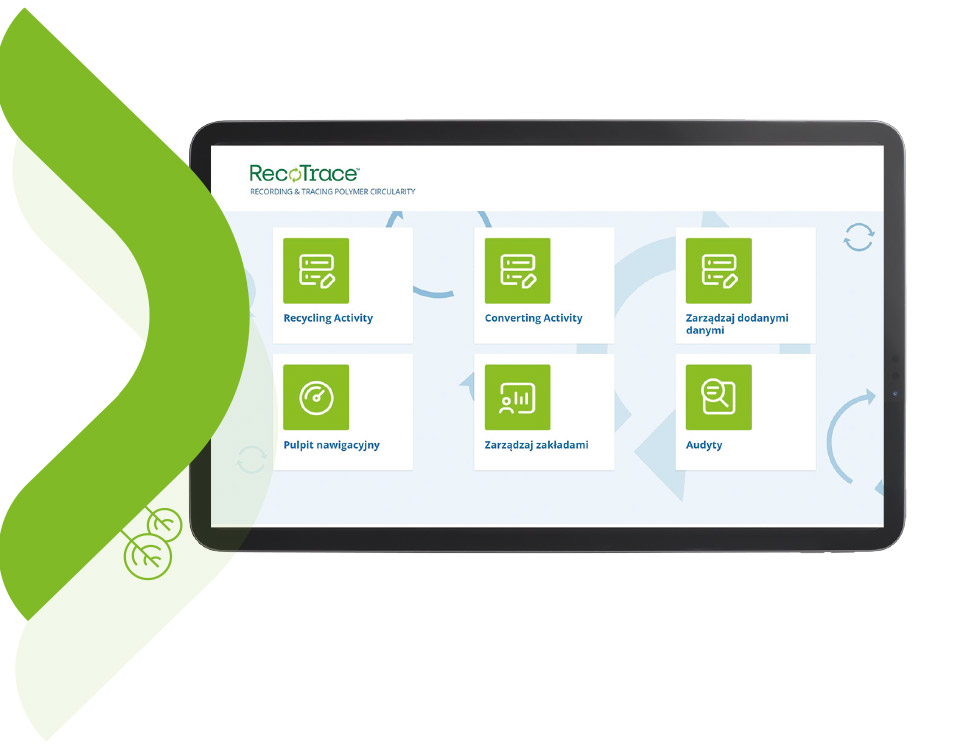 RecoTrace
RecoTrace is a data collection system focusing on production of recycled plastics and their reusage on industrial scale.

Collected data help to understand the flows and dynamics of plastic wastes and recycled materials market in Europe, helping to develop coherent policies and investment decisions, speeding up creation of circular economy. Foliarex is one of the first players on the market uploading our data to RecoTrace database.